-Shane Mercer
Jose 'The Goat' Fernandez is promising "one hell of a bareknuckle event" when he faces JD 'The Berzerker' Burns in a super middleweight fight at BYB 9: Tampa Brawl this weekend. Fernandez tells MILLIONS he's even more excited now that the fight has been moved to the main event and says fans can expect a great show. "They could expect a bloody war between both of us. Both of us are coming to fight. Both of us are tough. We don't fear each other. We have a good mutual respect for each other," says Fernandez.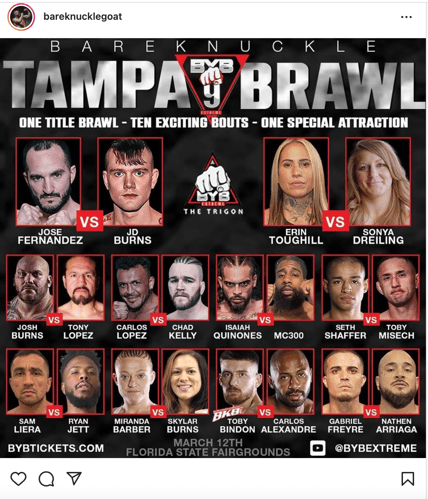 The BYB Extreme Fighting Series features an unusual ring called the Trigon and Fernandez says because of its triangular shape it makes for great fights. "If you don't know what you're doing in there, that Trigon is a very dangerous ring to be in. It's literally just built for us to just stand there and fight, so to speak."
Fernandez knows he's in for a tough fight, but at 2-0, he also says it's the most important fight of his career, "this would catapult my life into something that it's going to be amazing. It's going to really change everything for me, financially, emotionally, mentally. This is the fight of my life. This is the biggest event I've ever been in."
For Fernandez, that means training hard and making sure he has the gas tank to last seven three-minute rounds, "I mean 7 rounds, bare knuckle is, it's no joke." And while he's preparing to go the distance, Fernandez doesn't think the fight will go to the final bell. "I see this being a knockout, probably under 5 rounds. I don't think either one of us are going to go the distance. This is going to be a tough and an exciting fight to watch," says Fernandez.
You can watch the fight on YouTube this Saturday night and you can support Fernandez by buying his merchandise. You can also follow his fight journey by regularly checking out the MILLIONS blog.