Lexi Templeman has played hockey since the young age of 8 when she joined the Mitchell Atom Rep Hockey team. Templeman recently committed to playing professionally in 2022, agreeing to join the Toronto Six of the Premier Hockey Federation (PHF) for the 2022–23 campaign.
After spending the previous five years south of the border playing for the Ohio Buckeyes and Robert Morris University, she is optimistic about her professional career and creating new relationships and keeping up with old ones along her journey now that she is back in Canada.
Templeman played for the Ohio State University Buckeyes in 2021–2022, who finished a strong year by winning their first national championship in March with a 3-2 victory over Minnesota–Duluth in the Frozen Four final. She played in 37 games during her sixth season of Division I competition, scoring seven goals and adding four assists for a total of 11 points.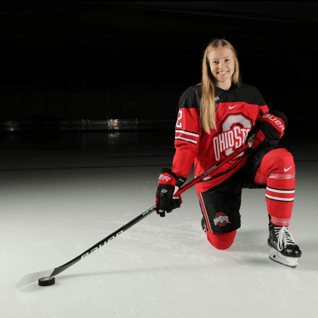 At Robert Morris University, Templeman played for the Colonials women's hockey team for the first four seasons of her NCAA career. As a rookie, she earned a spot on the CHA All-Rookie Team after finishing the 2017–18 season with an amazing 21 points while skating next to Toronto's other newest signee, star forward Brittany Howard.
In 36 games as a sophomore in 2018–19, she finished second in the team's scoring with 32 points. The following year, as a junior, she had her most productive season with a career-high 44 points, ranking second on the team and in the College Hockey America conference. She was also named to two consecutive All–CHA Second Team selections.
Templeman transitioned from alternate captain in her third season to captain as a senior in 2020–21 thanks to this achievement and her improving performance. In a position of leadership, she improved her performance, leading the team with 30 points in 25 games and earning a berth on the All-Conference First Team. She accumulated an incredible 138 points in 167 games during her collegiate career, including her fifth season in Ohio.
These incredible career stats is what made her a favorite for those who liked to use the best Ohio Sports Betting platforms, as she managed to continue to produce a show on the ice that made her an attractive proposition for punters. Along with Brianna Delaney, she is now ranked first among outstanding female players in RMU women's hockey history. And her condition is only improving as she continues to excel in her professional hockey career.