Maryna "Iron Lady" Moroz dominated her flyweight fight against former teammate Mariya Agapova at UFC 272 Saturday night. She locked in an arm triangle choke midway through the second round and Agapova had no choice but to tap or go to sleep.
It was an emotional victory for the fighter out of Volnogorsk, Ukraine, a country defending itself from a Russian military invasion. "My family is sitting with guns right now in home," Moroz told MILLIONS ahead of the fight. After getting her hand raised, Moroz was tearing up, and told the crowd, "my country and family in Ukraine I worry and I cry because of my family, in bad situations, and thank you for everyone who messages me and supports me."
Moroz wanted to do something ahead of the fight to support everyone in her home country, so her team worked with MILLIONS to create specially designed fundraising "Stand With Ukraine" merchandise. "I love my country…I want to show my strong Ukraine shirt and people see and support me and show that Ukraine is strong. People in Ukraine strong." Proceeds will go towards UNICEF and that organization's emergency response effort in Ukraine.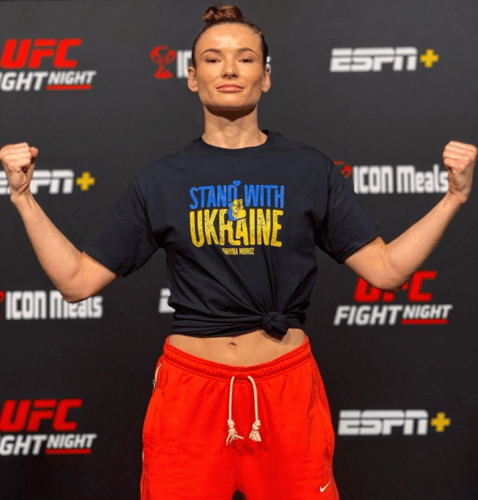 Moroz must have been feeling all that extra love and support, because she channeled it into her performance. Moroz controlled the entire fight, taking Agapova down, and nearly finishing her in the first round with a rear-naked choke. Agapova survived the round, but again Moroz took her down in the second, landed some heavy ground and pound, and finished it off with the submission.
You can support Moroz and all the people of Ukraine by purchasing her 'Stand With Ukraine' merchandise.