Love him or hate him, MMA fans will be seeing a lot more of Bryce "Thug Nasty" Mitchell. For starters, he's fighting Edson Barboza at UFC 272 this Saturday. But Mitchell also just inked a major deal and made this huge announcement on Instagram.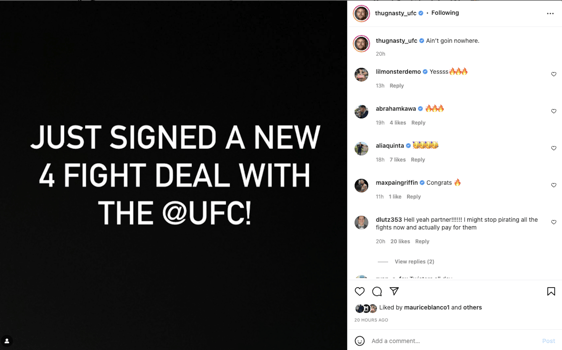 That's right, he's got at least another four fights in the UFC, and possibly many more than that if he's successful on Saturday. Mitchell is cashing in all over the place in the lead up to UFC 272. He's endorsing edible maker Bigly Wellness, and is featured in a commercial for Rujo Boots.
In that advertisement Mitchell says, "If I put my mind to something I can achieve anything that I want to. That's what makes me different. A lot of these fighters fight to live, I live to fight."
It's shaping up to be an explosive featherweight match with the experienced Barboza, who at 36-years-old has 32 fights under his belt with a record of 22-10 with 13 knockouts. Mitchell is undefeated at 14-0 and while he doesn't have any knockout wins, he does have nine submission victories.
"I haven't been checking the weather forecast, but there might be another twister coming through. A Big F5 Arkansas twister," says Mitchell in a video posted to his Instagram account, referring to the submission move he's becoming known for.
You can see it here at about the 1:40 mark.
Fans will be hoping to see a twister in the octagon on Saturday and you can support "Thug Nasty" by buying his merchandise. You can also interact with him using the ask me anything feature and you'll get a personal video response. Also, follow his fight journey by regularly checking in on the MILLIONS blog.