-Shane Mercer
Canadian boxer Kim Clavel is defending her WBC silver female light flyweight title Friday night against Mariela Ribera Valverde at the French boxing event La Serie De Boxe put on by GYM Promotions at the Montreal Casino in Quebec.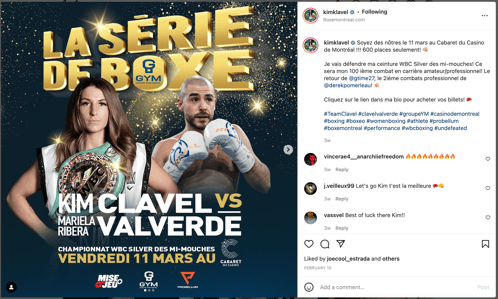 "Going to defend a title is stimulating!!!" Clavel tells MILLIONS, and says this is just the beginning of a steeper climb, "you have the impression that the real real game has just begun! Boxing to climb the ladder and climb the ratings is one thing, but going to defend something that belongs to you is another level."
Clavel was scheduled for a higher level fight on Friday with the women's light flyweight world champion, Yesenia Gomez, but her camp asked for more time. "I decided to fight anyway on March 11 to remain active since my last fight dates back to August 28. I'll be even more ready for Gomez!" says Clavel. That fight will likely take place in late April or early May.
But Clavel doesn't want to look past Valverde, and knows this will be a tough title defence. Valverde, a Bolivian boxer, has a record of 11-6 with 8 knockouts and Clavel knows it won't be an easy fight. "She has nothing to lose by coming to fight me in Montreal… I have to beware and not stoop to her level, I have to keep my boxing quality."
Clavel hasn't fought since late August because of an undisclosed injury. She says it was a minor setback that has actually made her an even stronger fighter, "the rehabilitation program that I had to do as well as the new complementary exercises that I did, I would even tell you that my condition is better or improved compared to before."

Fans of Clavel can expect to see her "really happy to box in front of an audience, shining in the ring and put up a good fight. With my team we worked a lot in the gym and I improved my craft!" Check out Clavel's merchandise and show some support. You can also follow her fight journey by regularly checking out the MILLIONS blog.