At MILLIONS we've just launched some exciting new features to support Athlete content creators! In the latest release we've doubled down on our streaming functionality and have also put together packages for any athlete to start a WatchParty Channel, Podcast, or Sports Talk Show. Here's what you get when you start a channel on MILLIONS:
Full brand package, design, and show merch.
Sponsorship sales: Our team will build a sponsorship kit and include your show in all sales activities.
Build your following - With the new FOLLOW feature, you own your fan list. We'll help market your show to them and help you gain new fans and show subscribers.
Moderators / video editors for all your episodes.

Content production / distribution to help drive traffic.

Live Shopping Store for anything you want to sell during your live shows.
Account Management / coordination to set everything up.

Here is what some shows that already launched look like:
Not only do you get all the support we outlined above but our marketing, production, and sales teams are ready to help try and drive viewership, content and sales for you. We worked with all the shows to pick a hand full of brands they'd be interested to get as a sponsor. BodyArmor was selected, and we helped all the shows integrate BodyArmor into their WatchParties for an episode. We then put together a highlight reel of athletes enjoying BODYARMOR:
We then sent this video to the Coca-Cola team as part of a sponsorship initiative. What else? From the athletes' WatchParties, we provided over 20 short form content pieces which got over 10,000 views within a couple days and grew their followings. Check out this IG Reel from Adrian Yanez we created.
Not only did this reel get 5,430 views in a day but he also gained 100's of new followers which he owns. Adrian also sold merchandise and teased a new drop to his 1000's of viewers.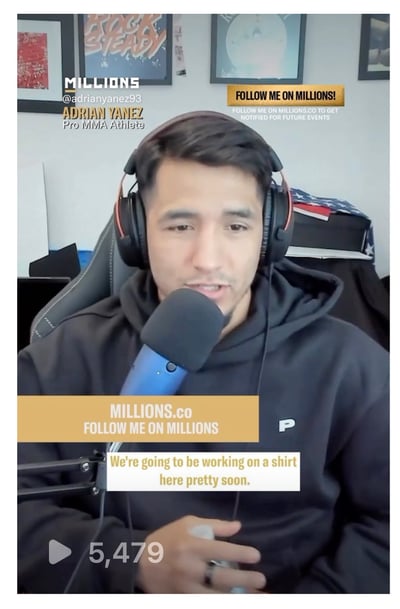 Let's get started in building you a CHANNEL, SHOW, or a PODCAST on MILLIONS today. Contact us to get started.